Manchester Victoria opens after £44 million redevelopment
0SHARES
Share via
Pinterest
Reddit
Buffer
Xing
WhatsApp
Flipboard
Posted: 6 October 2015 | | No comments yet
The newly modernised Manchester Victoria Station opened to the public on 06 October 2015 following a £44 million redevelopment programme. Once regarded as Britain's worst station, the 1884 built Manchester Victoria now boosts a new 96m long roof made from the same material as that used at the Eden Project. The new vast new roof gives […]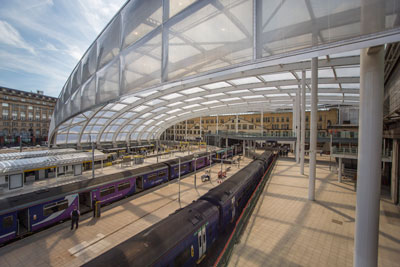 The newly modernised Manchester Victoria Station opened to the public on 06 October 2015 following a £44 million redevelopment programme.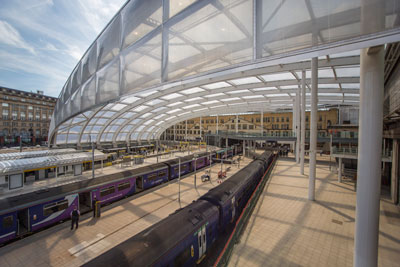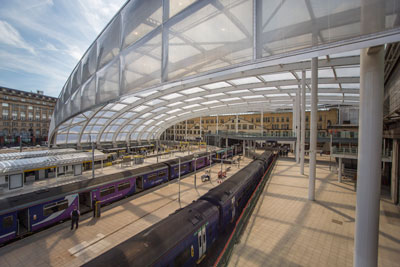 Once regarded as Britain's worst station, the 1884 built Manchester Victoria now boosts a new 96m long roof made from the same material as that used at the Eden Project. The new vast new roof gives train passengers and station users a light, spacious environment in which a new 60m bridge has been built creating a new high level link between the station and the arena. This new mezzanine level includes retail spaces, and lift, making the station fully accessible. The structure also separates arena patrons from rail uses enabling the new Auto Ticket Gateline.
The redevelopment, carried out by Network Rail, is part of a £1 billion investment programme to boost rail capacity and connectivity together with the speed and frequency of services across the north of England.
In addition to renovation work, Transport for Greater Manchester and Network Rail incorporated the expanded Metrolink tram network into redevelopment work. The station now houses four new tram platforms and three new tracks.
Manchester Victoria redevelopment is part of a £1bn investment programme to boost rail capacity and connectivity
On announcing the station open, Transport Secretary Patrick McLoughlin, said: "I want to congratulate everyone involved in this remarkable project. It's fantastic to see Manchester Victoria once again a station fit for the city. It's now a symbol of opportunity, not neglect, and proof that this one nation government is building the Northern Powerhouse.
"The North is receiving a wave of investment in its transport infrastructure on a scale not seen for generations, with £4.5 billion in the North West alone. The benefits are already being delivered, with 71,000 more businesses in the North West than in 2010 – a clear sign our long-term plan to secure a stronger, healthier economy is working."
Mark Carne, chief executive of Network Rail, said: "Six years ago it was dubbed Britain's worst station – today it must surely be among the country's best.
"For far too long people travelling in and out of Manchester Victoria had to make do with a tired and dark station.  The contrast today is remarkable. Manchester Victoria station is modern, clean and flooded with natural light; a station this great city so badly needs. It is a key part of our £1bn programme to modernise the railway for the whole of the north of England."
At the ceremony Martin Frobisher, route MD for Network Rail, formally handed the station back to Alex Hynes, MD of Northern Rail, the train company which manages its day-to-day running.
Commenting on the opening, Alex Hynes, Managing Director for Northern Rail, said: "Victoria feels like a brand new station to us and it's a fantastic testament to a successful working partnership between ourselves, Network Rail and the City of Manchester.
"It's a light, bright and contemporary station for our modern day customer and we're delighted with the results of the redevelopment. Manchester is an increasingly important city in the North and now it has the station it so rightly deserves."
Sir Richard Leese, leader of Manchester City Council and Greater Manchester Combined Authority (GMCA) lead on strategic rail, said: "Transport is the lifeblood of a thriving city and between now and 2017 our city centre will see more than £1b invested in new projects, the kind of investment not seen for generations.
"We are committed to making travel easier and better, ensuring better connections between our towns and cities and providing seamless travel right across the north of England.
"With tram and train services all together under one impressive new roof, the transformed Manchester Victoria station is an example of how we're beginning to make a difference as we work towards becoming a city with world-class transport infrastructure."
Related topics
Station Developments
Related organisations
Network Rail